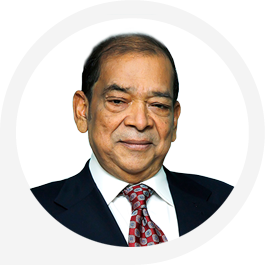 Dreams are what drives us to move forward in life. This compulsion to dream has driven me to build and shape new groundbreaking projects every time.
Gemcon's remarkable journey started with construction and engineering. Today, the group has expanded its businesses in multifarious sectors. From seafood to retail, organics to education, jute to tea, sports to media- Gemcon has its successful presence in every sector. A dedicated workforce and their complete support made all this possible for me over these years.
I have been always driven by two strong principles. First of all- do new things but do them properly, and secondly- do the things that will benefit the country and the people.
In keeping with the first principle, Gemcon is the first local company to participate in a Hydro-Carbon Habitat study, bring SPC Poles technology in Bangladesh, start 100% organically produced tea in a flat grounded tea garden and offer Liberal Arts education at the university level.
In keeping with the second principle, we have started versatile business projects that created new employment opportunities for thousands of people. We established possibly the only large jute mill and tea garden in Panchagarh, the least developed and remote district of Bangladesh. We took social and environmental responsibility as our prime concern.
The Journey of Gemcon continues through our investing in this country and in its people, because I always believe in the future. Therefore, I find no reason for the new generation to not have faith and to keep dreaming for a better future of the nation.
Kazi Shahid Ahmed